幸福駅・愛国駅|愛の国から幸福へ 英語
About Kofuku Station
Originally on the Japan National Railway's Hiroo Line, Kofuku Station operated from 1956 until 1987, when the Hiroo Line stopped operations.
In March of 1973, NHK (Japan Broadcasting Corporation) broadcasted a segment on Kofuku Station called 「The Journey to Happiness〜Obihiro〜」on its travel program 「A Travel Journal of New Japan.」Thanks to that broadcast, the phrase 「Happiness from the Country of Love」 became the catch phrase of Kofuku Station as it experienced a boom in popularity.
As the original station buildings began to deteriorate, reinforcements to combat this and improve earthquake resistance took place. To ensure the safety of its visitors Kofuku Station underwent a total renewal with the concept 「Old but, New.」The renovations included making the station a road side park open to the public.
Currently, Kofuku Station is visited by over 100,000 guests a year and has become a destination spot for visitors of Obihiro City.
Please come and visit Kofuku Station the next time you're in Obihiro City.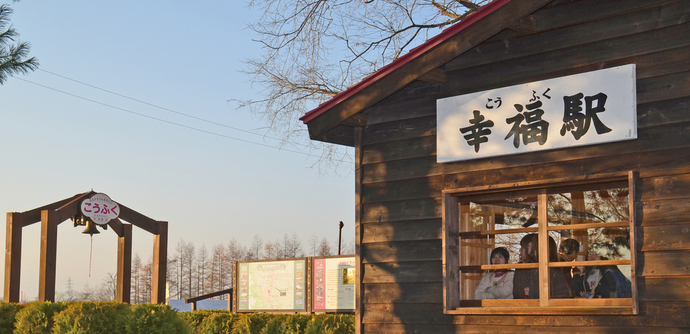 This wooden station building served as a platform from which you would board a train, much like the 2 diesel trains on display.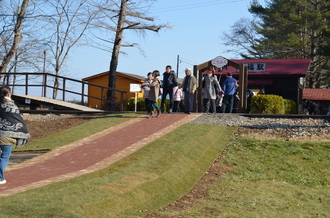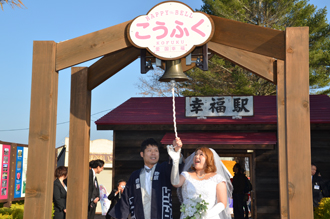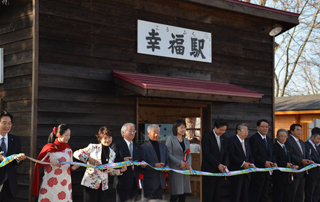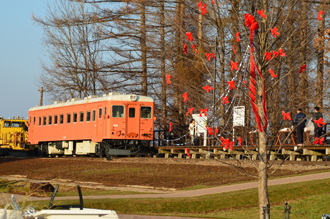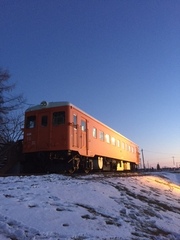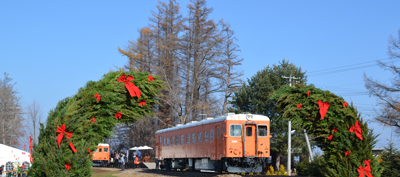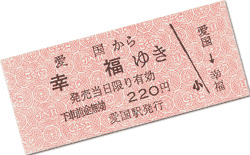 During its golden age, 10,000,000 tickets from Aikoku to Kofuku were sold over a span of 4 years.
「From Aikoku to Kofuku」tickets, are available for purchase in front of Kofuku Station and Aikoku Station.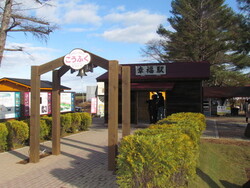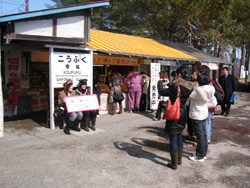 About Aikoku Station
Japan National Railway, former Hiroo Line Aikoku Station
Currently, Aikoku Station serves as a Transportation Memorial Center where tickets, panels and a steam locomotive are on display.
Recommended Spot
In front of the station building there is a stone monument of a boarding ticket which says「To Kofuku (Happiness)」and is a popular photo-taking spot.
Admission…Free
Open Hours…09:00am〜17:00pm(March〜November open daily、December〜February only open on Sundays)
The steam locomotive is not open to visitors in winter (December〜March).
Location…Obihiro City, Aikoku Town Kisen 39-40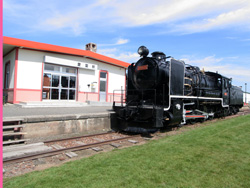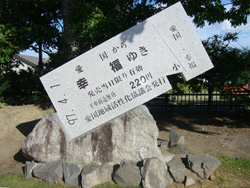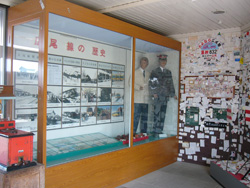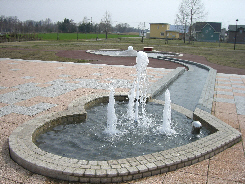 Lover's Sanctuary
On July 2008, Kofuku Station and Aikoku Station were given the title「Lover's Sancturary.」
「Lover's Sanctuary」is part of NPO Area Activating Supporting Center's「Project for Lovers」through which tourist spots are chosen as a symbol of love in that area.
Kofuku Station Happy Ceremony
The station building renewal of 2013 included the new addition of a wedding dress house as well as a 「Happiness Square」and a「Love Fountain」on the west side of the station building.
Come and make beautiful memories with the「Kofuku Station Happy Ceremony.」From 2002 to March 2015 nearly 2800 couples had a「Kofuku Station Happy Ceremony.」
We strive to continue to make Kofuku Station a lasting memory for all who visit her. Please come to Kofuku Station with the people you love.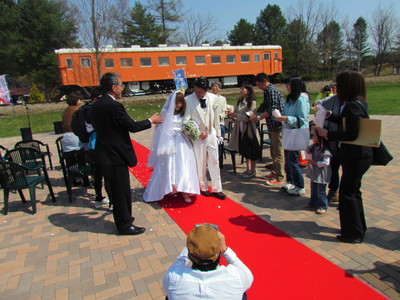 To commemorate your trip, experience a wedding ceremony at a sanctuary for pure love.
Please visit the 「Kofuku Station Happy Ceremony」page!
Goko Station
Nicknamed "Romance Station," Goko Station on Taiwan Railway's Neiwan Line of became Friendship Stations with Kofuku Station on October 22nd, 2016.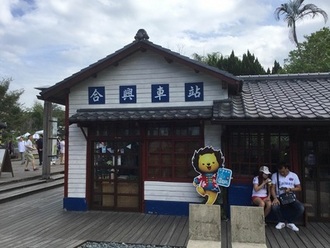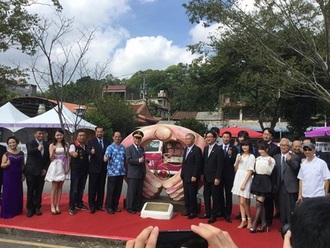 Display Hall
The inside of the diesel cars of Kofuku Station is now open as a display hall. The hall may be used for photo exhibitions and more.
Reservations are required to use the hall.For more information
Attractions near Kofuku Station・Aikoku Station
Directions
Kofuku Station
Location
Obihiro City, Kofuku Town Higashi 1 Sen
From the center of Obihiro City
By bus…From the Obihiro Station Bus Terminal ride the Tokachi Bus (十勝バス) headed for Hiroo(40〜50 min). Kofuku Station will be a 5 min walk from the "Kofuku" bus stop
By car…Go south on National Highway 236 for 30 mins
Or, go south on National Highway 236 then drive onto the Obihiro-Hiroo Expressway at the Obihiro-Kawanishi Interchange and exit at the Kofuku Interchange (approx. a 15 min drive). Kofuku Station will be a 5 min from the Kofuku Interchange exit.
Parking Lot…36 car occupancy(5 spaces for oversize-vehicles)
From Tokachi Obihiro Airport
By car or taxi…10 mins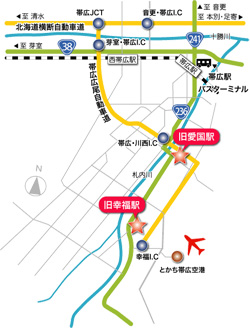 Aikoku Station
Location
Obihiro City, Aikoku Town Kisen 39 
From the center of Obihiro City
By bus…From the Obihiro Station Bus Terminal, ride the Tokachi Bus headed for Hiroo (30 min). Aikoku Station will be a 2 min walk from the "Aikoku" bus stop
By car…Go south on National Highway 236 for 20 mins
Parking Lot…20 car occupancy…20
このページに関する

ご意見・お問い合わせ

経済部観光交流室観光交流課観光係
〒080-8670 帯広市西5条南7丁目1番地
電話:0155-65-4169 ファクス:0155-23-0172
ご意見・お問い合わせフォーム